Music – and how to make it – is constantly evolving; a continuous "work in progress", if you may. With the introduction of new inventions and innovations, it is taking leaps and bounds that would have been unimaginable centuries ago when the first ever musicians first laid their fingers on the black and white keys of grand pianos and performed inside stately drawing rooms. Today, in this digital age, making music is now accessible to more people, and one such advancement is the introduction of digital pianos.
The Rising Demand for Digital Pianos

Many people make the mistake of describing digital pianos as "electric pianos" or even those "electronic keyboards". But there is much more to a digital piano, which is a modern electronic musical instrument that combines the essence of a traditional piano and the sound of an acoustic piano with the flexibility and versatility offered by modern technology.
The rising demand for digital pianos is best explained by looking at its major advantages over traditional and acoustic pianos. These also serve as the major considerations when looking for the best digital piano.
Cost Considerations. It is a widely-known fact that traditional pianos do not come cheap. In fact, you'd be hard-pressed to find a piano with less than 4 digits in its price tag. A digital piano, on the other hand, can be purchased at a lower cost, with some even selling below $500. The cost of maintenance of digital pianos is also definitely cheaper, since you won't have to worry about environmental factors such as room temperature and humidity, which are often huge considerations when it comes to traditional pianos.
Convenience. You cannot expect to be lugging around a grand piano, can you? Digital pianos are more compact and lightweight and, since they are portable, you can easily move them anywhere. They can also be broken down and stored when not in use, saving you a lot of floor space. In addition, a digital piano also offers the convenience of doing away with having to tweak its strings or hammers to properly tune it. Since the sounds are digitally recorded, you can rely on the digital piano to NEVER go out of tune.
Versatility. Traditional and acoustic pianos operate only at a specific volume or sound level. With digital pianos, you can easily manipulate and adjust the sound level. When you want to play without disturbing other people, you also have the option of using headphones instead to keep the volume down.
More sound options. As much as people love traditional pianos, they cannot help but wish it could do more, and that's where digital pianos come in. For starters, digital pianos offer more instrument sounds such as drum beats and strains of a flute. It's like playing with an entire orchestra when all you have is a single digital piano. These digital pianos also come with three types of octaves – Four, Six, and Eight octaves – giving you more options.
Sound Recording function. Practice makes perfect, and you'll have better practice if you have a way of 'reviewing' or tracking your progress. Sometimes, the built-in speaker that plays back the sound is just not enough. That's where the Record function comes in.  Most digital pianos these days are equipped with a sound recorder that allows users to record what they are playing, as well as external music.
Connectivity. Every digital piano comes with a MIDI performance functionality, which enables users to connect it with any musical instrument, a music player, or even a computer. It is also possible to add new music or even software in the digital piano, thanks to this function. In some models, there is a USB slot for added convenience.
With the entrance of digital pianos in the market, more and more people are given the opportunity to explore their musical creativity without worrying about money – and the lack thereof – and the usual difficulties and limitations usually encountered when using traditional pianos and acoustic pianos. What used to be a craft restricted to the elite few is now within reach of anyone who wants to create, or simply enjoy, music. Now the only issue left to worry about is picking the digital piano that suits their needs.
Best Digital Pianos in 2015
In order to provide customers an overview of 5 best digital pianos, we introduce a comparison chart with detailed features and specifications of them.
Model: Yamaha P35
Rating


Customer Reviews:
87+
Dimensions:
58.2 x 16.1 x 11.8
Weight: 35.7
Weighted Keys:


Touch Sensitive:


Sounds:


Product Quality:


Warranty: 3 Year
Model: Yamaha P105
Rating


Customer Reviews:
111+
Dimensions:
58.1 x 15.1 x 11.1
Weight: 36.4
Weighted Keys:


Touch Sensitive:


Sounds:


Product Quality:


Warranty: 3 Year
Model: Casio PX850
Rating


Customer Reviews:
79+
Dimensions:
53 x 12 x 33
Weight: 37.5
Weighted Keys:


Touch Sensitive:


Sounds:


Product Quality:


Warranty: 1 Year
Model: Yamaha DGX650
Rating


Customer Reviews:
94+
Dimensions:
58.9 x 21.5 x 12.8
Weight: 83.6
Weighted Keys:


Touch Sensitive:


Sounds:


Product Quality:


Warranty: 1 Year
Model: Casio PX150
Rating


Customer Reviews:
90+
Dimensions:
52 x 11 x 5
Weight: 20
Weighted Keys:


Touch Sensitive:


Sounds:


Product Quality:


Warranty: 1 Year
Top 5 Digital Piano Reviews

With so many digital piano reviews found online, finding the best digital piano becomes tricky and, as a result, confusing. Let us take a look at the top 5 digital pianos available today. These models are selected based on touch sensitivity, sound quality, overall product quality, customer feedback, and price considerations.
1. Casio PX 850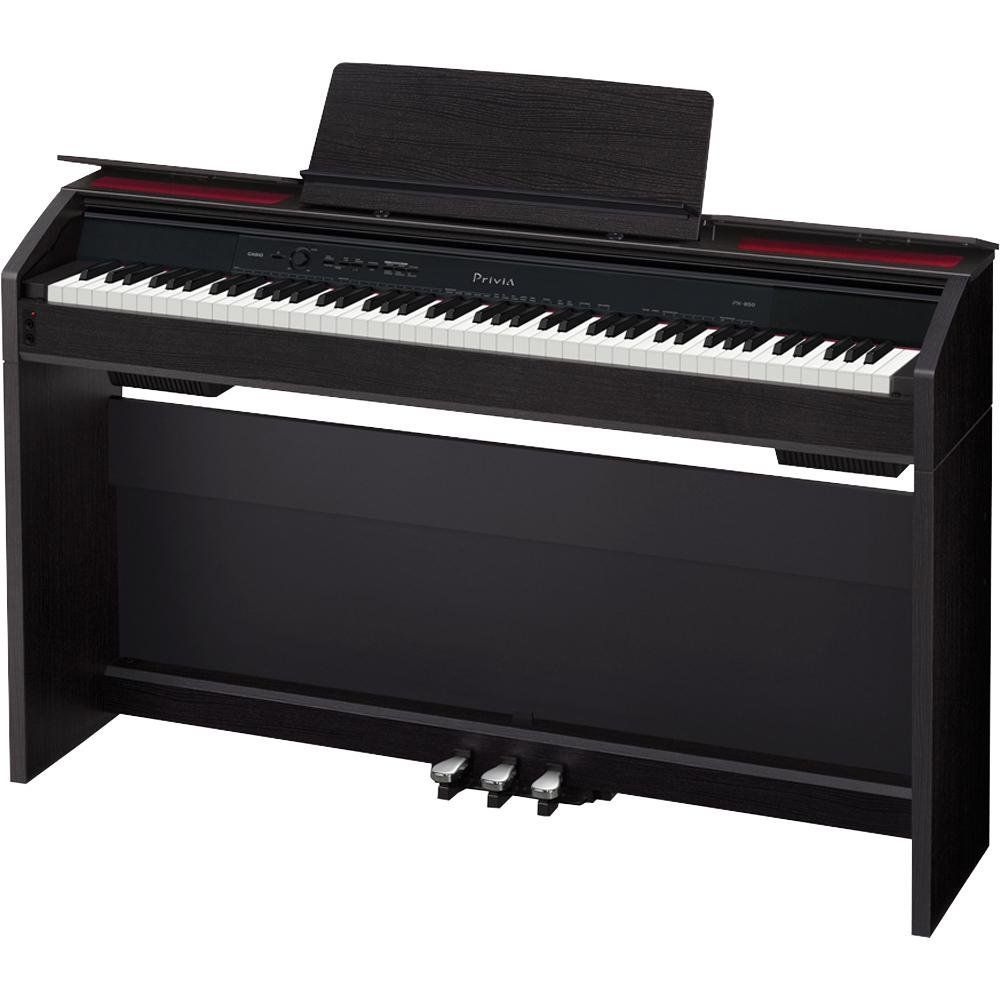 Casio brings you enhanced realism and simulates the performance of a grand piano with the Casio Privia PX850, which features Casio's proprietary sound source called Acoustic and intelligent Resonator or, simply, "AiR". It features a scaled and weighted 88-note Tri-sensor Hammer-action keyboard and Ebony and Ivory Feel Keys. These three sensors ensure accuracy and speed without compromising the timing nuance and the overall sound quality of this digital piano. Aside from a wide choice of instrument tones including, but not limited to, strings, bass and electric pianos, the PX-850 also has 256 polyphony tones. It also comes with a split-and-layer capability, where you can play bass in your left hand while playing two-layered tones in your right hand. In Duet mode, the keyboard can be split into two equal ranges, so two people – most probably a teacher and a student – can play with the keys at the same time.
Better than any cheap upright pianos, the Casio PX850 sounds and feels like a real piano, both in the richness of its tone and its great overall sound. At its price, it is comparable to having a real grand piano experience. This is highly recommended, especially for advanced piano players. Read more detailed reviews
2. Yamaha DGX650
Versatility is one of the marks of the best digital pianos, and the Yamaha DGX650 has that in spades. Everyone, regardless of skill level, will definitely have a blast playing, learning, and sharing music using this88-key piano, thanks to its many features. Get that authentic piano playing feel with its Graded Hammer Standard Action keyboard, and that accurate and highly realistic sound courtesy of its Damper Resonance and PureCF sampling. In fact, these mixes of features drove many users to the conclusion that it is even better than a traditional acoustic piano. It has 128 polyphony notes, a USB Audio Recorder, four built-in speakers, two amplifiers, and AUX line input. It also comes with XG song files from the "You Are The Artist"series that you can use as your guide or accompaniment.
It's definitely a great piano for those who are still learning, from training their finger technique until such time that they have developed their own style. This is made possible by its Style Recommender feature, which will give you suggestions on styles that are suitable for you. Another outstanding feature that you will definitely love about the Yamaha DGX650 is the Smart Chord, which has the ability to create entire chords whether you are playing something a simple pop song or a jazz piece. Amazon users gave this model an overall rating of 4.7 stars, with glowing digital piano reviews. Read more detailed reviews
3. Yamaha P105

Yet another model from Yamaha's esteemed P-series, the Yamaha P105 boasts exceptional touch and tone and a user-friendly interface perfect for both beginners and experienced piano players alike. It offers Pianist Styles, with 10 built-in Styles that will give you a full piano accompaniment even if all you did was play a simple chord. It's like having a built-in duet partner when you're playing. This compact digital piano also uses Yamaha's Pure CF sound engine, giving you a sound that is comparable to Yamaha's CFIIIS concert grand piano. Just like other models in this series, its 88-weighted keyboard is designed with Graded Hammer Standard technology for greater sensitivity and an authentic touch. Aside from having built-in speakers, it also has USB TO HOST, as well as an AUX LINE OUT, which allow direct connectivity between the P105 and your computer.
No doubt, its modern stylish design will catch everyone's eye, but more importantly, the main draws for this model include its amazing sound quality and hammer action, its PC connectivity feature, and the great price. Although some wish for higher storage capacity for the recordings and better foot pedal quality, the positive digital piano reviews for this product are enough to convince anyone to give this a try. Read more detailed reviews
4. Casio PX150

This list won't be complete without mention of the Casio PX150 digital piano, from Casio's Privia digital piano line. It offers a new keyboard action by way of the redesigned Tri-Sensor, Scaled Hammer Action Keyboard, consisting of 88 keys. Piano sound is further improved since this model has three times the memory of previous Privia digital pianos. Of course, this is also attributed to Casio's exclusive AiR sound source. It also has the well-loved Casio Privia features such as Duet Mode, Split and Layer, and Octave Shift. It also has the maximum number of polyphony notes – 128 notes – as well as 18 built-in tones, which is perfect for those who are only beginning to learn how to play the piano.
If there is one complaint against this model, it would have something to do with the stand height, which is a bit too high, especially for younger or shorter users. Read more detailed reviews
5. Yamaha P35
Leading Yamaha's legendary P-series is the portable Yamaha P35 digital piano, known for its superb sound and powerful elements. Weighing only 35.7 lbs, it also comes in a slim design (58.2 x 16.1 x 11.8 inches) that makes it easy to carry around and store when not in use. This compact instrument boasts Yamaha's Advanced Wave Memory (AWM) sampling technology, using Left and Right waveforms in creating a deeper and richer piano sound.
Graded Hammer Standard technology is applied on the keyboard, making it sensitive enough and easily adjustable to match your playing style. Its one-button operation offers a very user-friendly interface, and you won't even have a hard time looking for the "Grand Piano" button since it is visibly located on the front panel.
The more critical digital piano reviews for this model focuses on the limited number of polyphony notes it offers. It only has 32, which is less than what they'd originally hoped for. It would also have been better if it came with a recording function as well. However, despite all that, there is no denying that when it comes to excellent piano performance in a simplified design, the Yamaha P35 is considered by many to be the one of the best digital pianos out there. Read more detailed reviews
Tips on Choosing the Best Digital Piano
As much as you want to go out and buy the first digital piano that you come across, it would be a better idea, in the long run, to pause for a moment, so you can come up with a more informed decision. Of course, you wouldn't want to buy something and then regret it later since it turns out to be different from what you needed. You will only be wasting money and time. Here are some tips that will help you in choosing the best digital piano.
Assess your skill and experience levels. Before anything else, conduct an objective self-assessment of your skills. How adept are you with playing the piano? Are you experienced and, if so, what types of piano have you played? This will give you a better idea on what digital piano to look for. It won't do you any good if, as a beginner, you get a digital piano with features suitable for advanced and experienced players. Similarly, if you are already experienced, you'll only be shortchanging yourself with a digital piano with only the most basic features.
Check your budget. How much are you willing to spend on a digital piano? It wouldn't be a problem if you have a lot of money to throw around, but it's a different story if you are on a tight budget. You don't want to spend your time looking up a digital piano when, in the end, you won't be able to buy it because it's out of your price range.
Check for space availability. This is very important if you are purchasing a digital piano for personal use in your home. How much floor area or space do you have for a digital piano? If you are dealing with space constraints, you might want to direct your attention to the more compact and portable models.
Measure piano dimensions. Height compatibility is also a factor to be considered, so check out the dimensions or the measurements of the piano itself. Don't make the mistake of getting tall pianos for use by kids or people of short stature.
Ascertain piano setup. If you expect to be constantly moving, or you simply don't have enough floor space, consider a digital piano that can be easily broken down into parts and reassembled when necessary. Transporting lighter parts is also friendlier than hauling the heavier and bulkier models.
Check the piano's sound quality. This is the most important consideration when choosing a digital piano. Look into the exact type or style of digital sound technology used by the piano manufacturer, and then conduct a personal sound test. Trust your judgment on whether the sound is realistic or not. One trick you can do is to press one key and see how long it holds the sound. Another trick would be to hold down the sustain pedal and press the C note.
Check the piano's sound volume. Look into the speaker of the piano; there should be at least one internal speaker. Another thing to look into is the number of octaves that it has. If you want very good volume quality, make sure it has at least 4 octaves.
Get the proper keyboard. When choosing a digital piano, make sure that the keyboard has at least 88 keys and utilizes Graded Hammer technology. You don't want your fingers to slip on the keys while playing so test that it offers an easy "grip". You may also want to check that it has rhythm facilities and velocity response keys.
Check pedal response. Most digital pianos come with at least one pedal that acts to sustain the notes. Decide on the number of pedals you need in your digital piano (some have as much as 4 pedals) and proceed on checking how touch responsive they are and how much pressure they can take.
Check for add-ons. There are other functionalities that could "make or break" your decision on choosing a digital piano. Maybe you want one with an amplifier. Do you think you need a headphone jack? Perhaps you also want to make the most of your piano experience and would appreciate some connectivity features as well. Look for one with MIDI support as well as a USB port, which will enable easy connection with a computer or other media player.
Check warranty coverage. To better protect yourself in case there are defects or problems, make sure that the digital piano you are eyeing comes with a warranty with the maximum period possible. If it has a replacement warranty on parts, much better.
When in doubt, ask. There's nothing wrong with asking for help. Talk to your piano teacher, or someone familiar with digital pianos. Talk with salespersons about the pros and cons of the digital pianos. You will also find reading digital piano reviews to be a great help.
Conclusion
Choosing the best digital piano may seem like a daunting task, but knowing what you need and want is a good way to start in making the process painless and easy. This site contains all the information you need regarding digital pianos, as well as honest and critical reviews of these products. We want you to enjoy the whole piano experience, and we will get you started on your musical journey by helping you choose the best digital piano for you.